In Seven Lectures on Shakespeare and Milton, Samuel Taylor Coleridge writes
I will run the risk of asserting, that where the reading of novels prevails as a habit, it occasions in time the entire destruction of the powers of the mind : it is such an utter loss to the reader, that it is not so much to be called pass-time as kill-time. It conveys no trustworthy information as to facts ; it produces no improvement of the intellect, but fills the mind with a mawkish and morbid sensibility, which is directly hostile to the cultivation, invigoration, and enlargement of the nobler faculties of the understanding.
Read a little more of that lecture, though, and you will see he is talking about the causes of false literary criticism. In other words, novels make people say mean things about his poetry, as well as his friends' poetry. Why is he even talking about false criticism? Coleridge was a significant literary critic as well as a poet, so he undoubtedly had something to say about critics and criticism. Specifically, in chapter 3 of Biographia Literaria, he says
I may yet be allowed to express some degree of surprize, that after having run the critical gauntlet for a certain class of faults which I had, nothing having come before the judgment-seat in the interim, I should, year after year, quarter after quarter, month after month–(not to mention sundry petty periodicals of still quicker revolution, "or weekly or diurnal")–have been, for at least seventeen years consecutively, dragged forth by them into the foremost ranks of the proscribed, and forced to abide the brunt of abuse, for faults directly opposite, and which I certainly had not.
Much of chapter 3, and really much of Biographia Literaria, is Coleridge's attack on literary critics who have unjustly (in his opinion) attacked his work and the work of his friends. More specifically, he is talking about Francis Jeffrey, the future Lord Jeffrey, editor of the Edinburg Review. Jeffrey had been giving Coleridge and his friends the Lake Poets grief via semi-anonymous reviews in the Edinburg Review. Anonymous reviews were normal at the time, so it's not like Lord Jeffrey was hiding. In fact, he actually put his name to a response to the Biographia Literaria, which was genuinely unusual at the time. The Edinburg Review wrote some brutal reviews of Coleridge's works at least in part because of who he was and what his politics were. The Review had been, since about 1808, fairly pro-Whig, and Coleridge was at least in some ways very pro-Tory.
We also find this in a footnote in the Biographia Literaria:
For as to the devotees of the circulating libraries, I dare not compliment their pass-time, or rather kill-time, with the name of reading. Call it rather a sort of beggarly day-dreaming, during which the mind of the dreamer furnishes for itself nothing but laziness, and a little mawkish sensibility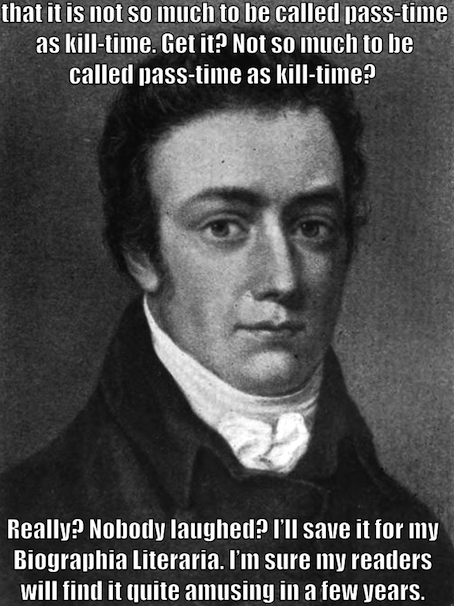 Coleridge continues, suggesting that in novel readers are also exceedingly fond of "swaying on a chair or gate; spitting over a bridge; smoking; snuff-taking; tete-a-tete quarrels after dinner between husband and wife; conning word by word all the advertisements of a daily newspaper in a public house on a rainy day, etc. etc. etc."
So is this Coleridge the poet knocking novels the same way that movies in the 80s always knocked TV? Is it just what people of the early 19th century blamed, kind of like how anything bad that happens to a Republican these days somehow turns out to be Obama's fault? Is Coleridge just an elitist who can't handle the notion of women and those filthy, spitting-over-bridges lower classes doing anything other than toiling in misery?
I'm not an expert on either Coleridge or his times. Some people view Coleridge as an elitist, but a more generous interpretation can be found in articles such as Anthony John Harding's "'Contempt for the Reading Public?" — Coleridge, Wordsworth, and the Book Business." Harding argues that Coleridge had hoped that literature would help advance humanity and was disappointed both by the fact that novels were not doing that and that control over the printed word was shifting away from authors and into the grubby hands of the publishing industry. As the novel market exploded, books went from being works of art to commodities, and publishers were interested in publishing whatever would sell. Coleridge, according to Harding, was not happy with rampant and unchecked commercialism in general, certainly not in his own field, and especially not in a field that, he believed, had the potential to vastly improve the human condition. In that case, one way to interpret this paragraph from chapter 3 of the Biographia Literaria is as Coleridge's concern that written works were more and more about making money than about conveying information.
In times of old, books were as religious oracles; as literature advanced, they next became venerable preceptors; they then descended to the rank of instructive friends; and, as their numbers increased, they sank still lower to that of entertaining companions; and at present they seem degraded into culprits to hold up their hands at the bar of every self-elected, yet not the less peremptory, judge, who chooses to write from humour or interest, from enmity or arrogance, and to abide the decision "of him that reads in malice, or him that reads after dinner."
Of course, one of the key assumptions here is that there was some golden age in which authors wrote purely to convey information vital to improving society, and publishers thought only of how they could help content creators help humanity. You could also read that paragraph and walk away feeling perfectly certain that Coleridge was an elitist who couldn't stand not being special anymore. Another way to read that paragraph, of course, is as an old man yelling at clouds.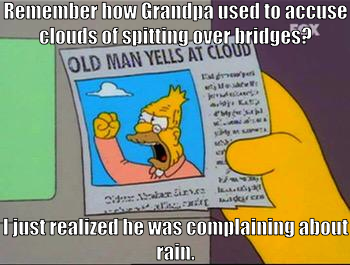 Then we come to Coleridge's attempt at a periodical, The Friend. Here is a quote from the second essay:
From the periodical literature the general reader deems himself entitled to expect amusement, and some degree of information, and if the writer can convey any instruction at the same time, and without demanding any additional thought ([racist "joke" omitted]), this supererogatory merit will not perhaps be taken amiss. Now amusement in and of itself may be afforded by the gratification either of the curiosity or of the passions. I use the former word as distinguished from the love of knowledge, and the latter in distinction from those that arise in well-ordered minds, from the perception of truth or falsehood, virtue or vice: — emotions, which are always preceded by thought, and linked with improvement.
Later in that essay, Coleridge says he is not opposed to "vacations of innocent entertainment and promiscuous information," but he compares these to pretty flowers instead of the "homely, yet foodful or medicinal herbs" that constitute Real Literature. In other words, if it tastes good, looks good, or is enjoyable, it's got to be bad for you.
After carefully redefining curiosity to be a bad, or at least a worthless, thing, in the third essay he says "the habit of receiving pleasure without any exertion of thought, by the mere excitement of curiosity and sensibility, may be justly ranked among the worst effects of habitual novel reading." Again, if it's fun, it's got to be bad for you. Reading the first few essays of The Friend might just push some people into the "Coleridge is a snob" camp, but I don't see any of those interpretations as mutually exclusive. People can be more than one thing, and Coleridge seems like he can be an elitist snob who is upset both because everyone likes books now and because rampant commercialism of an intellectual art form isn't exactly a good thing, as well as a crazy old man shouting at clouds.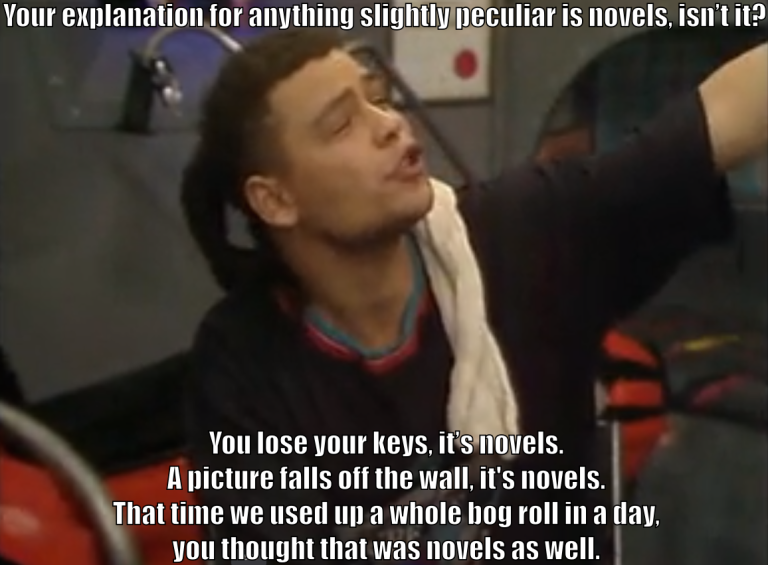 Still, when I read in Coleridge's Lectures on Shakespeare and Milton that novels cause false criticism, I really wondered if there was more to the story. Coleridge reused some of the bits from his lecture on false criticism in his later attack on Jeffrey in Biographica Literaria, so perhaps this part of his lecture was an earlier swipe at the same guy. Or maybe he didn't think he could top "their pass-time, or rather kill-time."1 But if this was one of Coleridge's earlier attacks on Jeffrey and if Coleridge didn't always blame novels for everything bad, maybe he made this connection because Lord Jeffrey was fond of novels. But was Lord Jeffrey fond of novels? As it turns out, Jeffrey was more than just fond of novels. He wanted them to be treated as serious literature, and in the November 1810 edition of the Edinburg Review, almost exactly a year before Coleridge's lecture about how novels cause false criticism, Jeffrey came right out and said so.
As I perceive I have, in some of the following papers, made a sort of apology for seeking to direct the attention of my readers to things so insignificant as Novels, it may be worth while to inform the present generation that, in my youth, writings of this sort were rated very low with us–scarcely allowed indeed to pass as part of a nation's permanent literature–and generally deemed altogether unworthy of any grave critical notice. […] For certainly a greater mass of trash and rubbish never disgraced the press of any country, than the ordinary Novels that filled and supported our circulating libraries, […] the staple of our Novel market was, beyond imagination, despicable: and had consequently sunk and degraded the whole department of literature, of which it had usurped the name.
And this is from someone who likes novels! But all of that is part of the 18th century panic from Jeffrey's youth, and Lord Jeffrey was a modern 19th century guy. He continues:
All this, however, has since been signally, and happily, changed; and that rabble rout of abominations driven from our confines for ever. The Novels of Sir Walter Scott are, beyond all question, the most remarkable productions of the present age; and have made a sensation, and produced an effect, all over Europe, to which nothing parallel can be mentioned since the days of Rousseau and Voltaire; while, in our own country, they have attained a place, inferior only to that which must be filled for ever by the unapproachable glory of Shakespeare.
We know that Jeffrey and Coleridge had been beefing since 1802, and Jeffrey had clearly outed himself as a confirmed fan of novels not long before the lecture. Coleridge also reused some of the anti-novel rhetoric of his lecture on false criticism in his Biographia Literaria, which certainly was an attack on Jeffrey. Does that mean Coleridge's crack about novel reading was his "Long Kiss Goodnight" in the 2Jef vs. The Notorious S.T.C. feud? Unfortunately, I have yet to find anything written by an expert on the Edinburg Review – Lake Poets rivalry that supports my crazy idea. So, who knows. At the very least, one of the greatest English writers and literary critics of the early 19th century seemed to think novels were the source of at least some evil. And his rival, who wanted people to take novels as seriously as they did more traditional forms of writing, still felt it necessary to talk about how horrible the last generation of novels was.
How did Coleridge and Lord Jeffrey do?
| Stock Attack | Used? |
| --- | --- |
| Stimulation of violence, sadism, and criminality | ❌ |
| Undermining of sexual morality and legitimate authority | ❌ |
| Promotion of passivity through narcotization, hypnosis, and desensitization | ❌ |
| Substitution of fantasy for reality; promotion of escapism | ❌ |
| Promotion of stereotypy, distortion, oversimplification, and irrelevance | ✅ |
| Deliberate emotional manipulation and exploitation of consumers | ❌ |
| Destruction of literacy | ❌ |
| Weakening of family ties | ❌ |
| Destruction of artistic integrity and creativity in society | ✅ |
| Homogenization of culture at the lowest level | ❌ |
| Promotion of materialism and conformity | ❌ |
| Making readers less intelligent | ✅ |
| Posing an actual physical risk to health | ❌ |
| Being addictive in the same way that drugs or alcohol are | ❌ |
| Being metaphorically (or literally) infectious, toxic, or venomous | ❌ |
| Causing the end of some mythical golden age, or at least reminding us of its end | ✅ |
| Being fun or pleasant, since nothing fun or pleasant can be good for you | ✅ |
| Total: | 5 |
Not too bad. But Coleridge wasn't the only critic who was sure that the evils of novel reading extended far beyond the waste of a small sum of money and a few hours time. Up next, we'll see what John Ruskin had against novels.
---
1: Or maybe it was like when a joke bombs and the comedian feels the need to repeat it at least once, just to confirm that it wasn't funny.