So far in The Kids These Days and The Novels, we've seen people complain that novels can cause earthquakes, that novels can be written by women, that novels can cause false taste in criticism and art, that novels are too much fun to possibly be good for you, and that there are so darned many books that it's hard to find the good ones. The novelist Clara Reeve has a few other ideas to add to this list. Despite being sort of a moderate in the novel panic, Reeve is (among other things) concerned that free access to novels is bad for people. In particular, she takes aim at circulating libraries. In her history of prose fiction The Progress of Romance, Reeve warns us that "A Circulating Library is in deed a great evil,– young people are allowed to subscribe to them, and to read indiscriminately all they contain; and thus food and poison are conveyed to the young mind together." Reeve's problem with a circulating library, unlike other contemporary libraries, is that anyone who can pay the fee can borrow books.
I'm not mocking Reeve for being concerned that, say, a six-year-old might pick up and read "The Illustrated and Annotated Fanny Hill, With Complete and Accurate Directions for Becoming a Pre-teen of Pleasure," since by her own accounts she was a rather early and precocious reader. I'm mostly mocking her for the drama she and others feel the need to attach to this. But clearly she didn't completely hate circulating libraries, for in 1791 she wrote The School for Widows, in which she has her heroine uses a circulating library without any hesitation. My guess is that her actual issue with libraries is that "the wrong sort of person" might get access to books, and thus be corrupted. As Ruskin says, it may be hard for someone, once they have a library card, to go back to costermongering again.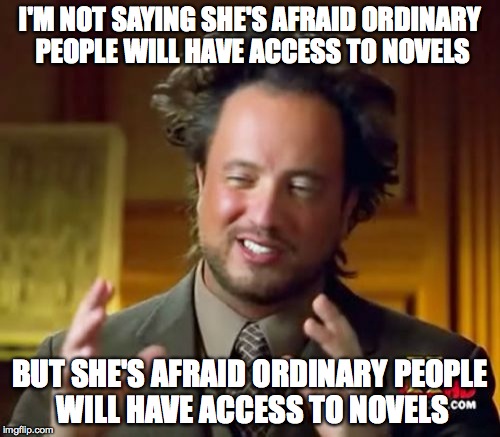 I might also be mocking Reeve for what she wrote in the introduction to The School for Widows:
There has been among the Novel readers, of late years, a rage for SENTIMENT; insomuch that Authors have thought it necessary to recommend their works by this word–Sentimental Stories, Sentimental Plays, Sentimental Tales, Sentimental Journeys, &c.
After Coleridge and Ruskin, can you guess where this is going? No, not false criticism, but false sentimentality. Novels are making people too soft, emotional, and caring. A few pages later, we get this gem.
A young girl, about seven years old, begged her mother not to hurt the poor little flea that hopped upon her frock – "For you know, mamma, that we must not kill any thing!"

However ridiculous this story may seem, the fact is true. It deserves to be compared with that of a poor lady, whose sensibility was excited by the broken leg of a wheelbarrow!
Yeah, this sounds legit, well-researched, and well-reasoned. Reeve continues, explaining that false sensibilities from novels make people give up rather than work hard, and spend more time talking about how sensitive they are than they spend actually being sensitive.
Finally, I mock Clara Reeve because of this bullshit from The Progress of Romance, just one page after her attack on libraries:
There are yet more and greater evils behind.–The seeds of vice and folly are sown in the heart,–the passions are awakened,–false expectations are raised.–A young woman is taught to expect adventures and intrigues,–she expects to be addressed in the style of these books, with the language of flattery and adulation.–If a plain man addresses her in rational terms and pays her the greatest of compliments,–that of desiring to spend his life with her,–that is not sufficient, her vanity is disappointed, she expects to meet a Hero in Romance.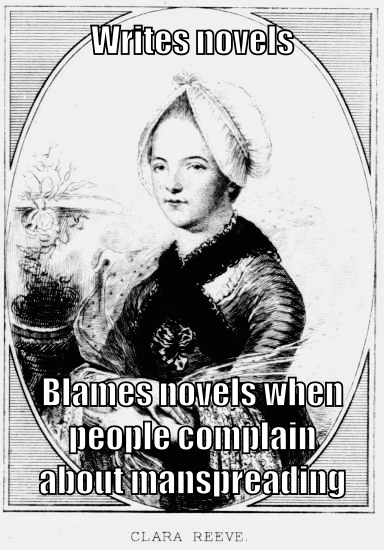 If only Clara Reeve were alive today, when women are so spoiled by Internet feminism that they don't always react favorably to shouts of "Wooh! You're sexy!" from random passersby. I'm sure she would blame novels for the 19th Amendment in the US, Feminist Frequency, people making fun of manspreading, etc.
I'm filing "Novels are bad because they make women slightly less willing to put up with the absolute laziest forms of sexist asshattery" under "Undermining of sexual morality and legitimate authority" as well as "Substitution of fantasy for reality." I'm really not sure where to count the whole false sensibility thing.
| Stock Attack | Used? |
| --- | --- |
| Stimulation of violence, sadism, and criminality | ❌ |
| Undermining of sexual morality and legitimate authority | ✅ |
| Promotion of passivity through narcotization, hypnosis, and desensitization | ❌ |
| Substitution of fantasy for reality; promotion of escapism | ✅ |
| Promotion of stereotypy, distortion, oversimplification, and irrelevance | ❌ |
| Deliberate emotional manipulation and exploitation of consumers | ✅ |
| Destruction of literacy | ❌ |
| Weakening of family ties | ❌ |
| Destruction of artistic integrity and creativity in society | ❌ |
| Homogenization of culture at the lowest level | ❌ |
| Promotion of materialism and conformity | ❌ |
| Making readers less intelligent | ❌ |
| Posing an actual physical risk to health | ❌ |
| Being addictive in the same way that drugs or alcohol are | ❌ |
| Being metaphorically (or literally) infectious, toxic, or venomous | ❌ |
| Causing the end of some mythical golden age, or at least reminding us of its end | ❌ |
| Being fun or pleasant, since nothing fun or pleasant can be good for you | ❌ |
| Total: | 3 |
Next time, we will meet The Reverend James Fordyce, who was also not a fan of the idea that women are people. He does, however, admit that he has no idea what he is talking about. As if that ever stopped anyone.