FROM THE DEPARTMENT OF THE KIDS THESE DAYS AND GENERAL HAND WRINGING OVER THE FACT THAT THE WORLD HAS CHANGED SINCE WE WERE THE KIDS THESE DAYS
There are lots of very good reasons to panic. How about these?
Your guidebook says not to panic. Verdict: Be prepared to panic.
You're a cop one day away from retiring, and something comes up at work. Verdict: PANIC!
You are a mecha pilot whose long-awaited steak dinner arrives at the same time your ship initiates a red alert. Verdict: PANIC!
You're about to land on an alien planet and you realize you probably don't have a last name. Verdict: Check with Gwen, then maybe panic.
A ship called the Liberator is in orbit of your world, or you are currently a member of said vessel's crew. Verdict: PANIC! Not that it will help.
Your name is Miles O'Brien, and your day is going really well so far. Verdict: By all means, flip out. Nobody will judge you for it. That's completely reasonable flipping out.
Your only marketable skill is extracting 3.5″ floppy disks from the drive when they get stuck. Verdict: Your panic ship sailed quite a while ago.
You have a genuine phobia of needles and you have just been diagnosed with a pulmonary embolism. Verdict: PANIC! Sorry, I can't tell if you heard me. I'll just write it on a sticky note and put it over here with the rest of the panic.
You've just realized that you are older than you imagine yourself being, and that the kids these days do pretty much what you did when you were a kid, but not in exactly the same way. Verdict: I'd say don't panic, but it's not like you'd listen.
This column will focus on the last member of our list, who has arms as muscular as an East German wrestler's from all the hand-wringing they do. History has shown that people who have, to the generations that followed, the least to worry about are the ones who worried the most. Or, at least, they are the ones who worried the loudest. Why? I'll let Raphael's painting of Leonardo da Vinci cosplaying as Plato and quoting Abe Simpson give you one possible reason.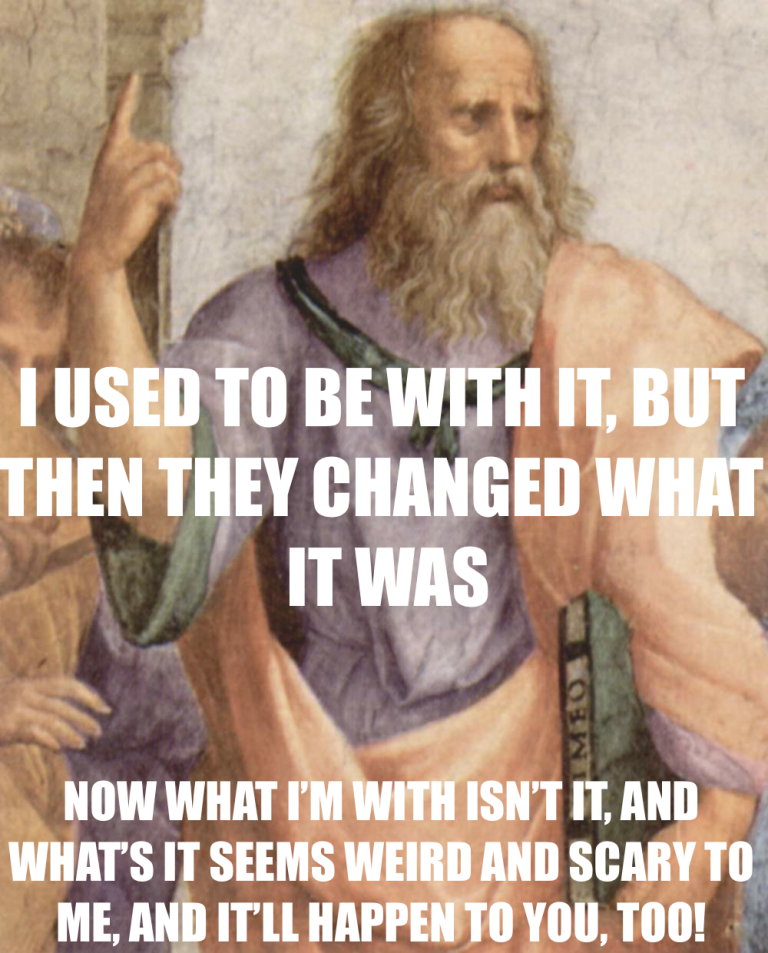 But not all of these whiners are upset just because they aren't trendy teenagers anymore. Several of the people we'll cover are outraged at least in part because something they enjoy has become popular,1 or at least has become popular among the "wrong" sort of people (women, the poor, etc.). Some of them see a genuine threat to their way of life, or at least to their pocketbook. Some, on the other hand, feel that both complaining about the kids these days and finding imaginary threats to protect those kids from are great ways to get attention, power, and profit. In at least one case, at least some of the blame falls on America's shoddy mental health care system. Finally, taking something from all of the above reasons, we have members of religions whose core beliefs include an unreasoning fear of anything even remotely enjoyable.
Naturally, we can find quite a few ministers saying absurd things about mostly harmless trends. But we can also find cranks, politicians, poets, musicians, and philosophers in the mix. There are also some science journalists who don't know much, if anything at all, about good science, as well as a few actual scientists who are willing to do sloppy or even dishonest research to prove that their crazy opinions about life have some basis in fact.
As it turns out, very few of these folks were particularly creative in their attacks on imaginary moral threats. Steven Starker, in Evil Influences: Crusades Against the Mass Media, gives a list of charges that are regularly leveled against mass media of all kinds.
stimulation of violence, sadism, and criminality
undermining of sexual morality and legitimate authority
promotion of passivity through narcotization, hypnosis, and desensitization
substitution of fantasy for reality; promotion of escapism
promotion of stereotypy, distortion, oversimplification, and irrelevance
deliberate emotional manipulation and exploitation of consumers
destruction of literacy
weakening of family ties
destruction of artistic integrity and creativity in society
homogenization of culture at the lowest level
promotion of materialism and conformity
I'm not really familiar with Steven Starker, but this list seems to be pretty good. I should, though, add a few others that we'll see.
making readers less intelligent
posing an actual physical risk to health
being addictive in the same way that drugs or alcohol are
being metaphorically (or literally) infectious, toxic, or venomous
causing the end of some mythical golden age, or at least reminding us of its end
being fun or pleasant, since nothing fun or pleasant can be good for you
Sometimes people will focus on one or two of these, but a few of the people we'll meet try to pack in as many of these as possible. None of their arguments are that good, so if you don't have quality, you might as well go for quantity.
We've got quite a lot of ground to cover – as you can see, even Professor Harold Hill has trouble keeping up with everything people can be scared of for no good reason. Given enough time, we'll get to all the things he mentions, but for now, we'll start with a capital N, which rhymes with pen, which is used to write novels.
👉🏽 "The Kids These Days and The Novels"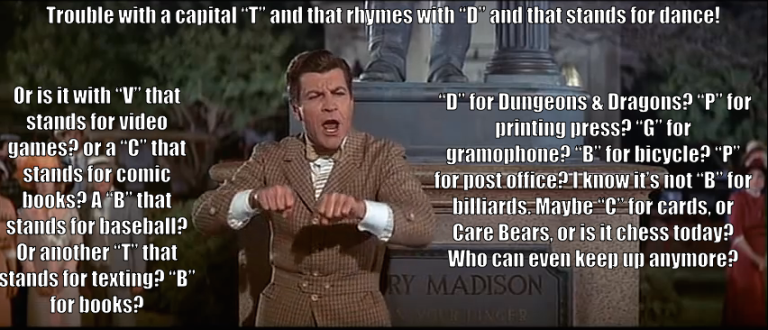 ---
1: Yes, these folks were hipsters before being a hipster was cool. Except that, apparently, it was already cool back then. This probably says more about our habit of mocking hipsters than anything else.