Disclaimer: There's no insightful criticism below. This really isn't even a review–more like a reaction. As soon as we left the theater, I said "I'm blogging about this!" And so here we are.
I don't love reboots in general, but tonight, I went to see the new Ghostbusters. What I was hoping for was a fun movie. And I got a fun movie! Win. But there was a little more to it than that. I'll try to avoid spoilers below, but everyone's threshold for spoilers is different. Read at your own risk. Warning: overuse of italics, caps, and exclamation points below!
---
People (well…some people) have been complaining that most of the male characters in the film are pretty useless. That's not wrong, and I'm 100% fine with it. It felt so great to have 100% women as the competent characters, the good guys, the heroes. It felt so great because it's so rare! The world is WAY overstocked with films featuring cool guys and useless women. It can handle one that's the other way around.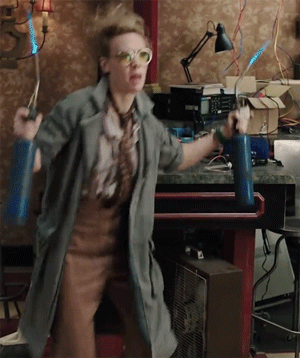 And I think this film knows it's subverting a few tropes here and there–or rather, gleefully kicking them aside like garbage. There are a few lines that seem like they must be mocking the diaperbaby fanboys who got so upset about the idea of female Ghostbusters. Well, I say MOCK AWAY.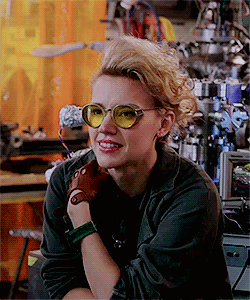 And I have no patience for anyone who thinks it's a "childhood ruiner," whatever that even means. Ghostbusters was part of my childhood as well. Countless geeky women–and mainstream women, since Ghostbusters isn't exactly a deep cut of nerd films–grew up with an irrational fear of quiet library stacks too.
Anyway, this new Ghostbusters may also be the first time I've ever seen a plus-size female hero in a film (sadly, I lack Leslie Jones' glorious height or figure and am in more of the Melissa McCarthy mold). I'm all for it.
Big love to Leslie Jones for insisting that people were misinterpreting her character. She was right. Patty Tolan is not the "streetwise black woman" that I was led to believe she would be (…unless you take "streetwise" really literally). STEM is not the be-all and end-all of knowledge, okay? And I'm not just saying that because I was a history major.
Bonus points for:
connections to the original film (unexpected ones, too)
Charles Dance (he's just cool)
a certain reference to a certain Doctor (I know it's long-established in GB, but still)
so much "female gaze" Chris Hemsworth–he is not my type, but if you are a person who likes him, you will get your money's worth
Dr. Jillian Holtzmann!!!
Dr.👏 Jillian👏 Holtzmann👏
✨💯🙌👑👌💖Dr. Jillian Holtzmann💖👌👑🙌💯✨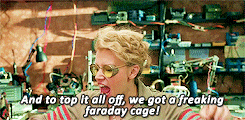 And while it may not be a Marvel film, DO NOT LEAVE UNTIL THE CREDITS ARE REALLY, TRULY OVER. 
TRUST.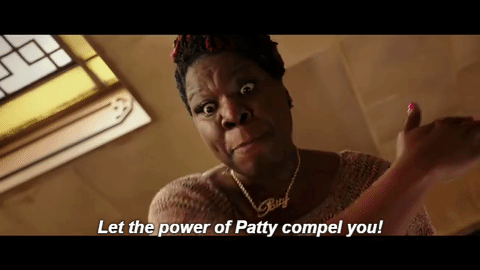 (More to come later. I can't help myself.)